I would tell their story, but I don't think I could do a better job than the groom has already done, so I'll let him take it from here:
"I met Jessica in 8th grade, we had a science class together. Our seats were in the very back of the room, and for Jessica it seemed like class always lasted for an eternity. The reason for these feelings came from the seat next to her, it was a very handsome little man named Kevin. At least this is how I remember it in my head. For Jessica school was a serious matter and she aspired to be the best she could be, for me school was boring and painful. I would fall asleep, and cut up in class to distract others from learning. Jessica was one of these victims, so needless to say she was not very friendly towards me. Over the years however, she and I became closer friends, and then even closer. I even asked her to prom once, but she said no!
After high school I moved to Charlotte, NC, and went to school. Jessica went to Berry. We still remained in touch from time to time. On occasion she would come to visit, or we would speak on the phone. A few years later I came to GA and we reconnected, but on a completely different level. Our relationship started after this visit, and it has been the best thing that has ever happened to me."
Let's have Jessica's take on the same story, shall we?
"Soooo… 8th grade was only my second year at South Hall Middle (and in Georgia) so my class schedule wasn't exactly right. I was placed in the wrong science class at the beginning of the year. By the time I transferred into the correct class, all the other students had already been placed at their assigned seat. Therefore, the only seat left by the time I got there was in the back corner next to the most annoying kid I ever experienced.. my future husband Kevin. :)
My first impression of my future husband was…Irritating!
At this point in my life, and with being so young at the time (12), I still felt like the new girl like I was trying to fit in to my new school. That with the fact that I am a self proclaimed "teachers pet", I instantly clashed with the class clown, trouble-making Kevin. He was bothersome to me throughout the class period and I took it upon myself to let him know I did not appreciate his lack of seriousness for the class. And yes, I may not have done it in the most friendly way, but now that we are on out way to getting married.. its a fun story to tell!
It is also highly possible that he has already mentioned the fact that I turned him down for senior prom in high school, which is something he loves to poke fun of me for."
Oh the fun we had Saturday and true to their laid back personaitilies when the sky turned dark and the forecast called for rain Jessica didn't think twice about having to move her outdoor ceremony inside. Simple as that- she'd rather play it safe and not "fuss about it". She strolled in Saturday afternoon and you'd never know she'd already had to accept a change in plans on her wedding day- her face was bright with a beautiful smile and the laughter of her and her friends filled the room.
I loved the mixture of old and new- the pearls belong to Jessica's grandmother.
the flowers were simply beautiful!
I love the focus of her girls as they zip her into her dress. Teamwork at its best!
You are stunning.
Such a fun group of ladies!
They shared in one of the sweetest first looks we've ever done. Jessica had waited patiently for Kevin to come around the corner… and as he did she couldn't hold it all in.
Absolutely LOVE the shot above.. captured by Lydia!
so SO happy together!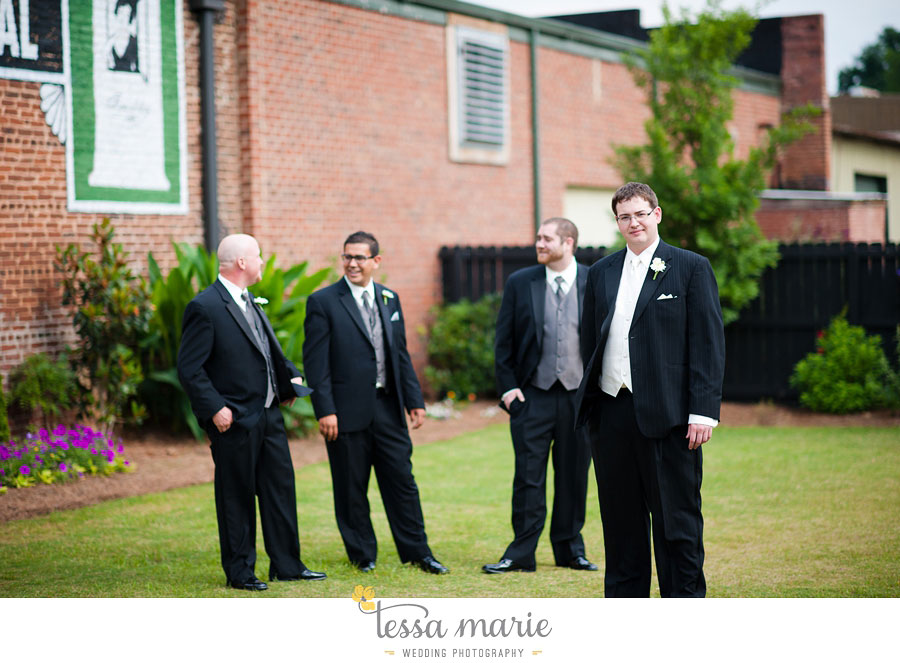 She did such a great job pulling all the little details together. Everything worked in with the setting just perfectly!
love the expression of her mom and Jessica looking over at her brother who walked her down the aisle.
as Jessica went to give Kevin his ring she burst out laughing. This concerned the minister and then she said, "I'm trying to remember what finger the ring goes on!" Everyone shared a good laugh and with a gentle reminder the ceremony proceeded. :)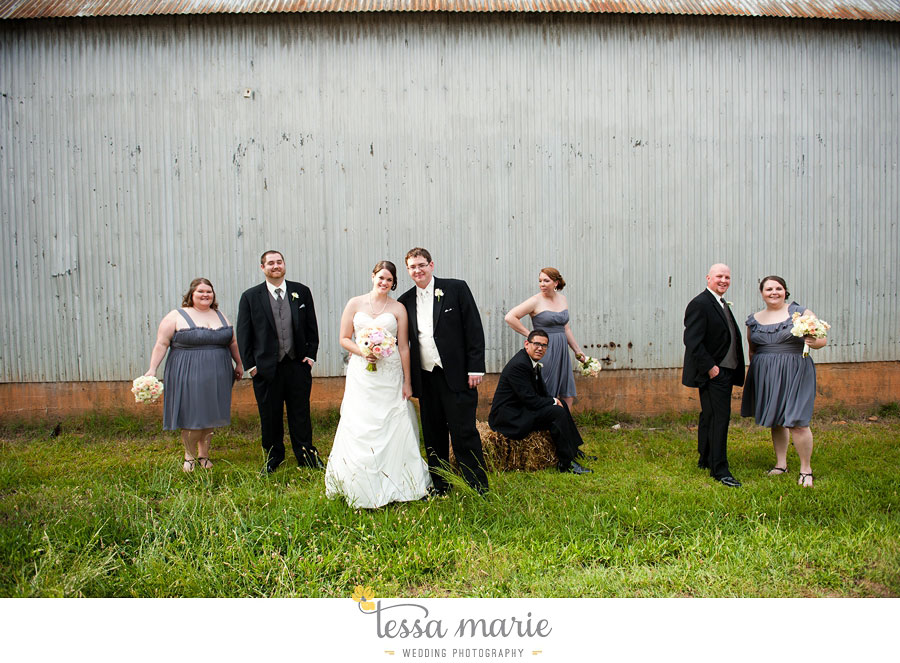 A special thanks to the groomsmen for carrying a straw bale over… that turned out to be wet and heavy. Regardless they were relentless and made it happen! Cheers to you guys!
really love this quiet moment between them.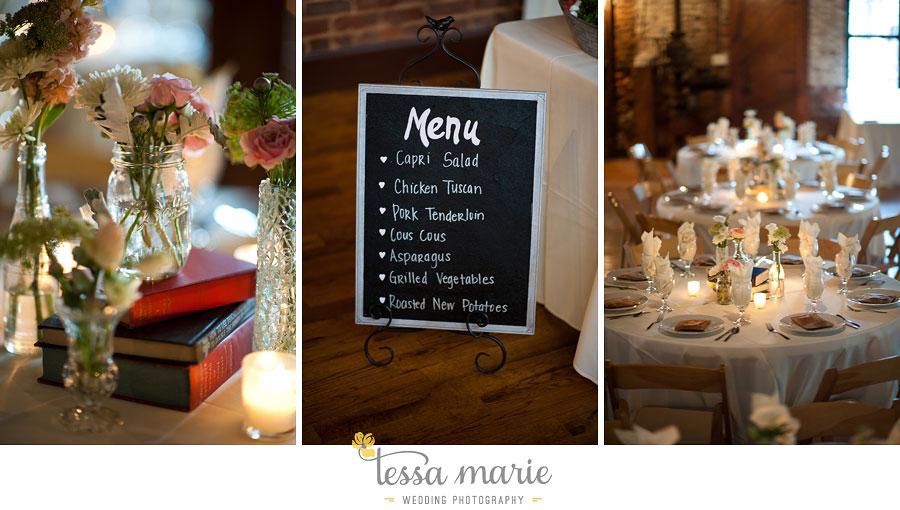 little did Kevin know when Jessica turned him down for his Senior prom he'd one day have the dance floor to himself… dancing with his wife.
let's get this party started!
Thank you both for sharing your love, Â your family and such a great group of friends! We wish you all the best in your future ahead!
A special thanks to Catherine at the Cotton Warehouse and Terri of Everything and More for their help in making Jessica and Kevin's wedding day run smoothly and be such a great success!
A little Behind the Scenes and proof Kevin and Jessica's wedding:
while the party was happening on the dance floor I made a quick trip back to grab some gear and out of the corner of my eye there was a huge fire on one of the empty tables. Thankfully there was a glass of water that helped distinguish the fire but for the record I can now add "firefighter" to the resume. ;)